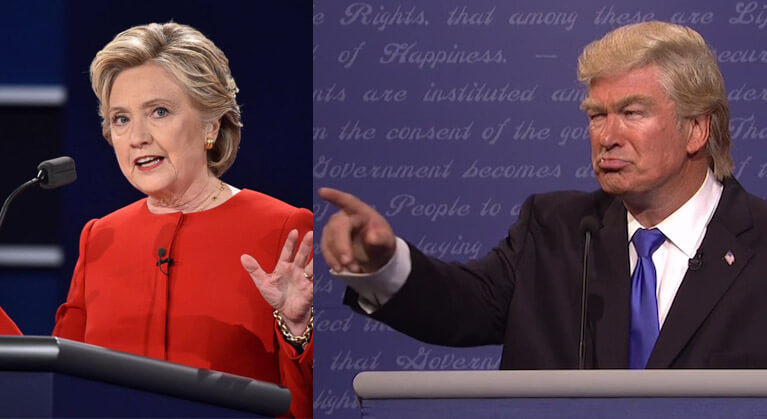 A nationwide poll conducted by NBC today seemed to confirm that actor Alec Baldwin's impression of Donald Trump has overtaken Hillary Clinton as preferred President.
This follows increasing popularity of the performance over the past few weeks, with polls in recent days showing that Secretary Clinton was having difficulty competing with such a well-liked character. The recent resurgence of interest in Secretary Clinton's email history by the FBI has also been attributed to the public's preference for the character to represent them internationally.
Mr Baldwin's impression of Republican presidential candidate Donald J Trump made its first appearance on the NBC live comedy sketch show Saturday Night Live a few weeks ago.
Although the initial response to the candidate was hilarity, Baldwin's version of Donald Trump turned out to appeal to voters who were disaffected or stoned. Popularity among this demographic only grew as the character made appearances in the sketch show for the following two weeks.
Libertarian candidate Gary Johnson has seen a drop in poll numbers accordingly.
Saturday Night Live creator and producer Lorne Michaels weighed in on why an impression is gaining so much traction as a serious political opponent to Secretary Clinton.
"Baldwin Trump is so inspiring and engrossing to watch. Not like Hillary Clinton. It's just awesome to see finally see somebody on television who is likeable, you know?"
Despite this, Secretary Clinton doesn't see Baldwin Trump as a serious threat.
"While I see Baldwin Trump's appeal, I'll only really be worried if Kate McKinnon starts running her impression of me against real me. Only then will I consider dropping out. She would be an unbeatable candidate."
Baldwin Trump's poll numbers had another bump on Sunday after he announced his running mate would be David S Pumpkins, played by Tom Hanks.
The Chaser had several questions for Mr Pumpkins but his answer was confounding.
Share this story: