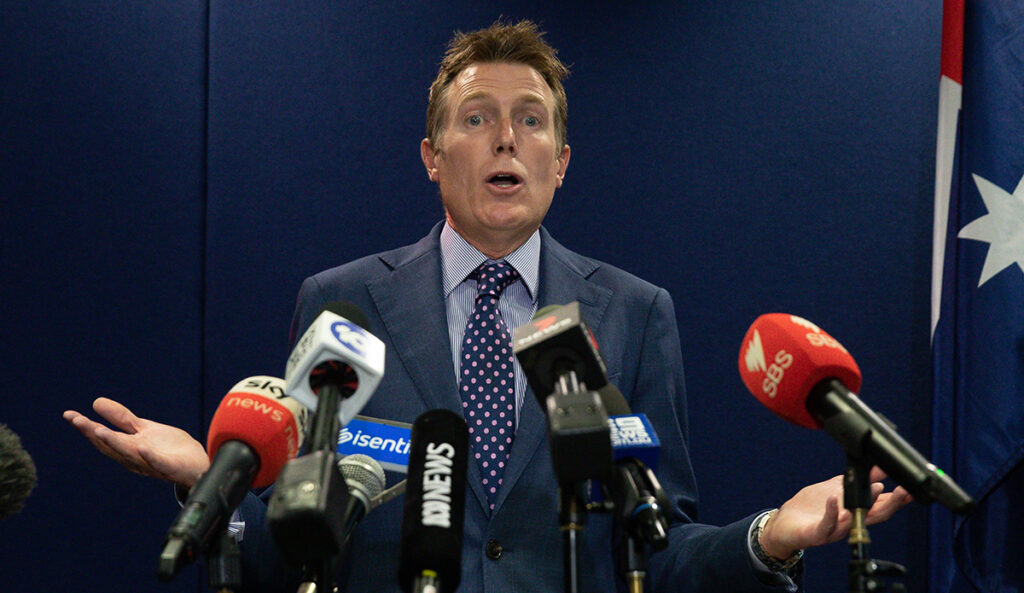 First law officer of the Crown and guy who allegedly [redacted] a [redacted] like a disgusting [redacted][redacted][redacted], Christian Porter has filed a defamation suit against the ABC and journalist Louise Milligan, claiming their reporting has impugned his reputation.
The move has shocked observers who were unaware that Mr Porter had any reputation left to protect.
Mr Porter was pulled aside a few years ago by then-Prime Minster Malcolm Turnbull for chatting up colleagues late at night in Canberra bars, which Turnbull worried would pose a national security risk, should he appoint Porter as Attorney-General. In 1999, Mr Porter drew a big penis on a naked stick-figure drawing of himself and then submitted it to Cleo magazine.
A lawyer for Mr Porter said Milligan didn't Porter a chance to answer the questions that he refused to answer. "Ms Milligan's article didn't give him a chance to prove his innocence and that despite not directly naming him in the article, it implied that he was the minister in question, which he was."
"The ABC has defamed my client when they reported on an anonymous minister facing rape allegations," said the lawyer who is really banking on the fact that being factually accurate is not a strong defence in Australia when it comes to defamation, "it was completely wrong for them to have done so. It is completely irrelevant that it is true that he was the one facing the allegation."
"Mr Porter has had no chance to defend himself and put forward his evidence that can clear him. This has been a trial by media ever since the case couldn't go to trial and the government refused to investigate it. As soon as Mr Porter refused to comment in regards to every attempt to put the allegations to him and ask him questions, he did not get to make a comment to the public. Nor did he get to bring forward his evidence in the press conference that he had held or literally in any other way at any time up to now."
"Our clients name was trending on twitter after the article, as to where other male cabinet ministers names but that is not relevant. After more information came out the public became confident in who it was, which is completely to blame on the original piece and is in no way connected to his reputation with how he treats women. It is 100% the ABC's fault, not the other networks like 9, 10 and News Corp who coincidentally Porter is mates with editors, who also added information."
"Let's leave it up to the fair balanced rulings of defamation court to prove my innocence without some silly independent inquiry," said Porter who has previously slammed Aussie defamation laws for not being balanced and favoring the plaintiff, "unlike the last time I thought I put an end to it this will do so. All I wanted was to get my version of events, that I do not recall, heard. But not over the phone of course cause my toddler wiped it, he also deleted my mouth when I was asked in person."
OUR LATEST LIVE SHOW - BOOK NOW:
Share this story: