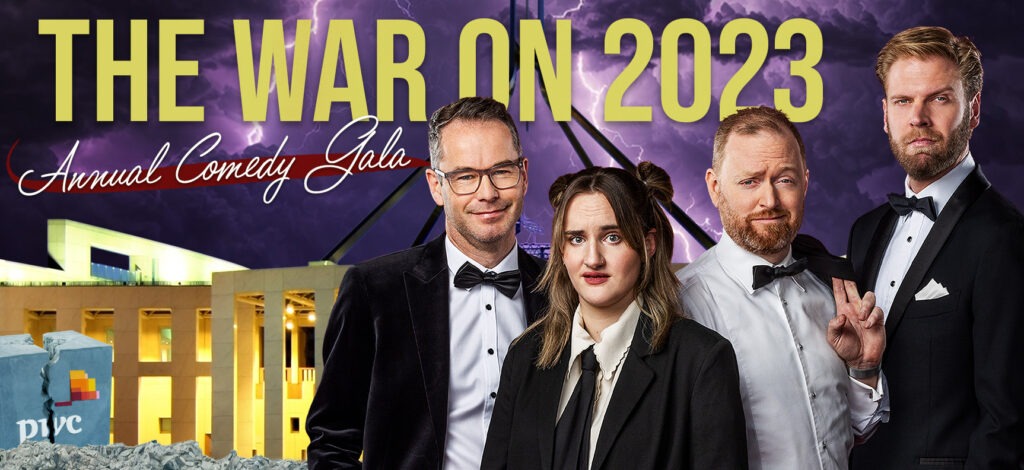 Dear Reader,
On the 7th August, tickets to The War on 2023 Annual Comedy Gala will go on-sale to the general public.
Here at The Chaser, we are petrified about the chaos this may unleash. You see, the show, now in its 7th year, has become a "must-see event" on par with a Taylor Swift concert or a John Farnham comeback tour.
We're worried that this sales event will lead to another meltdown in the ticketing infrastructure in Australia, with people waiting all day at their browsers, queuing for the chance of getting a ticket to see Mark Humphries, Gabbi Bolt, James Schloeffel and Charles Firth perform their razor-sharp satirical end of year wrap live.
Luckily, there is a solution. To avoid the chaos and agony, from today we're giving all the best-looking people exclusive access to pre-sale links so they buy get the best tickets before anyone else. As a valued casual reader of The Chaser website, you've been individually selected to receive these extremely valuable pre-sale links to all the shows. All you have to do is head over to WarOn2023.com, give us your email address so that we can on-sell it to Russian scam-bots, and then we'll send you the pre-sale links to all the shows.
Please DO NOT SHARE these links with anyone except all your family and friends and anyone else who asks for them. These are highly-exclusive, and extremely secret, and only for very good-looking people. Such as yourself.
Regards,
Charles Firth
Chief Marketing Intern
The Chaser
OUR LATEST LIVE SHOW - BOOK NOW:
Share this story: