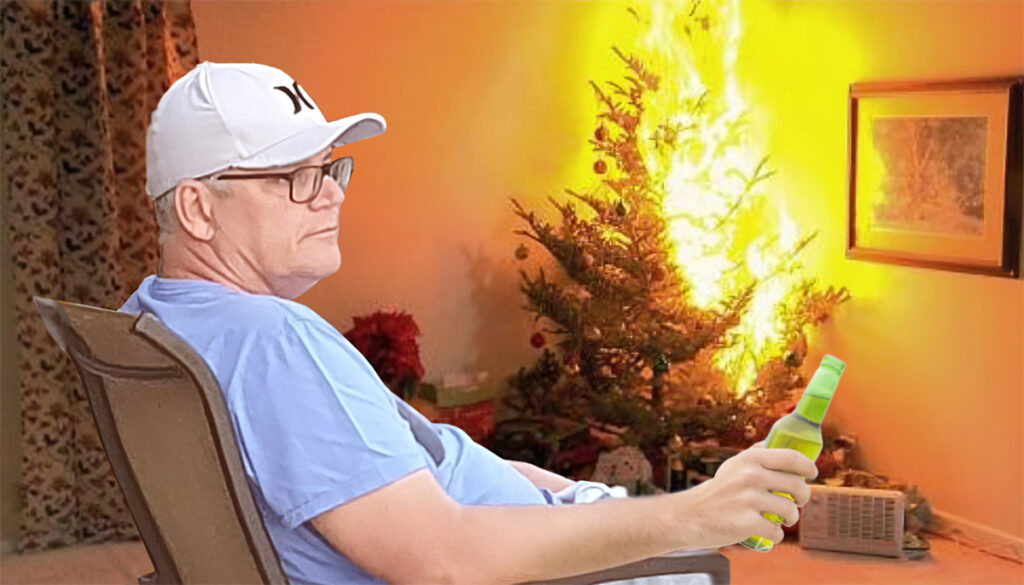 Kirribilli House will be lit up for Christmas in more ways than one, with Prime Minister Scott Morrison embracing a format steeped in Western yuletide tradition to deliver his Christmas message to Christians and other lesser Australians in 2019.
"The PM will conduct a traditional fireside chat with all the typical trimmings one associates with an old fashioned western Christmas," said a statement released by the PM's adviser today,
"Sydney residents will no doubt be overjoyed to see plumes of smoke billowing from the Prime Minister's residence."
Sparking the move has been the PM's keen ear for listening to what the nation needs of him, once it has been repeatedly shouted at him for over a week.
"The PM has sensed that many Australians long for a return to a simpler time at Christmas, a time when roast turkey and vegetables and plum pudding and custard dominated Christmas lunch, but they have been too quiet and well-mannered to raise it," the PM spokesperson said.
The PM's message will be one of hope, a call to put aside differences and embrace the true meaning of Christmas, which is to "pull a cracker with a mate, put on an undersized paper hat and to come together as one to hate on whichever idiot is Prime Minister that year."
The fireside chat will feature at least one Australian component: A log of wood sourced from newly re-zoned old-growth forest in the north-east of NSW, handcut and delivered by an RAAF-assigned C-130J Hercules sitting idly at the Richmond air base in order to prop up the Australian coal and gas industries. A fire expert from NSW RFS has been called back from whatever he was doing in the Blue Mountains in to ensure the fire is perfectly formed by 6pm when the message will be aired across Australia on ABC TV and radio.
In response to a query about the timing of lighting a fire at Kirribilli House while much of NSW and the greater Sydney is blanketed in smoke, the PM's Adviser provided a one-sentence reply.
"Now is not the time to talk about this," the Adviser stated. "Nor is any other time. Be quiet Australians."
Following the fireside chat, the PM and his family will then sit down to enjoy traditional fare on Christmas Eve, which will be spent in the Caribbean with a brief stopover in Paris.
OUR LATEST LIVE SHOW - BOOK NOW:
Share this story: