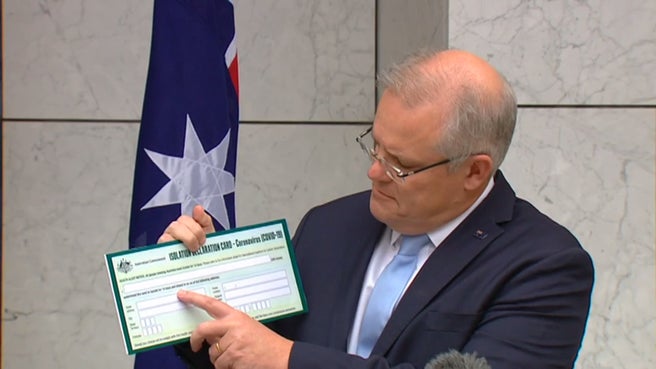 The coronavirus crisis is now officially out of control, after Scott Morrison used a novelty oversized Arrival Declaration form in his media conference this afternoon.
Mr Morrison said that people arriving from overseas were not strictly adhering to 14-day isolation rules, and that by introducing a novelty-sized form, people would finally heed the message.
"I didn't take Mr Morrison seriously before this," coughed one finance executive who was skiing in Aspen last week, "but now that he's used a novelty over-sized prop, I realise the gravity of the situation."
The Prime Minister announced that the army would be used to enforce the strict quarantine rules for arriving passengers, alarming some critics. But Mr Morrison reassured critics that there were very few innocent Afghanis arriving at the moment, so the likelihood of them being shot in the back at point blank range was "small".
Meanwhile, Australian Border Force has announced a massive delay in processing arrivals after it was clogged with novelty oversized forms from arriving passengers.
OUR LATEST LIVE SHOW - BOOK NOW:
Share this story: