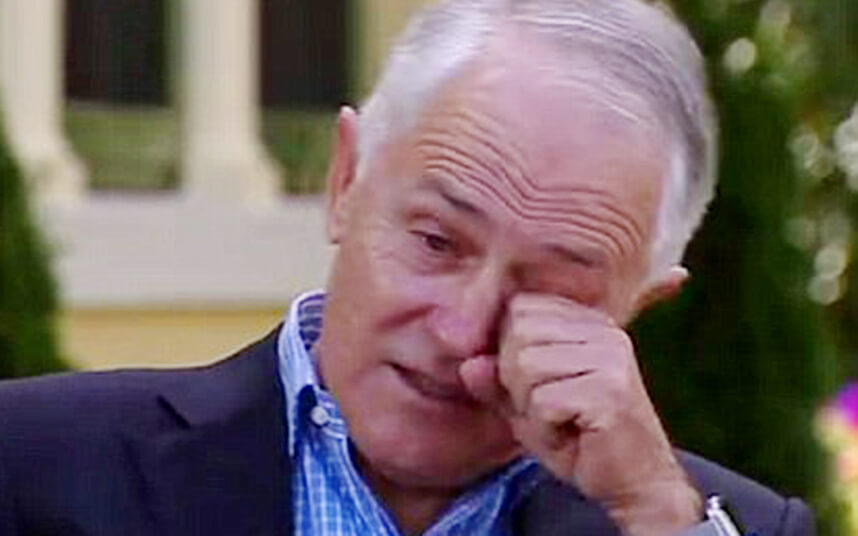 Prime Minister Malcolm Turnbull says he now understands the "horrors of middle class living", after he found himself stranded at his modest Kirribilli House residence on Saturday night.
Turnbull had spent the early morning gathered around a small table watching Rage and discussing innovative tax structures with some old banking friends. At around 7 in the morning, Turnbull realized he wasn't in his Point Piper mansion but Kirribilli House. With no vehicle and having lost his mobile phone the night before after engaging in an elaborate bet with a stranger, Malcolm was trapped, alone and beginning to grow fearful.
Turnbull proceeded to set out on foot to find some cold-pressed juice and gluten-free hot cakes, despite his friends' warnings that it might be dangerous, given Kirribilli's proximity to the Western Suburbs. As he wandered the streets, sources say Turnbull was visibly shocked by the prevalence of Mazdas and Volkswagens.
Instead of being able to order his regular smoked trout hotcake with horseradish dipping sauce, Turnbull was forced to make do with a smoked salmon bagel with cream cheese and watercress – a dish that was last seen in Sydney's eastern suburbs in 2004.
By 10am, Turnbull still hadn't bumped into anyone who he could do a deal with on his latest plan for a Siberian Wind Farm based in Bermuda. "How do these people make a living?" he was heard to remark.
Having learned 'how the other side live' Turnbull says he's currently working on a bill to allow the government to subsidize European automobile purchases for upper middle class families. "This bill will allow all the children of Kirribilli to have the security of driving in a BMW, with the windows up and the doors locked. By 2020, no child shall drive in poverty."
He also plans to pump $100 million into Kirribilli's local cafe scene in wake of its horrifically backward menu options.
Turnbull says he still relives his Kirribilli House every night through "vivid night terrors" and continues to refer to Kirribilli as "my Vietnam".
---
Buy The Chaser's Election Guide – offers from just $15
Share this story: