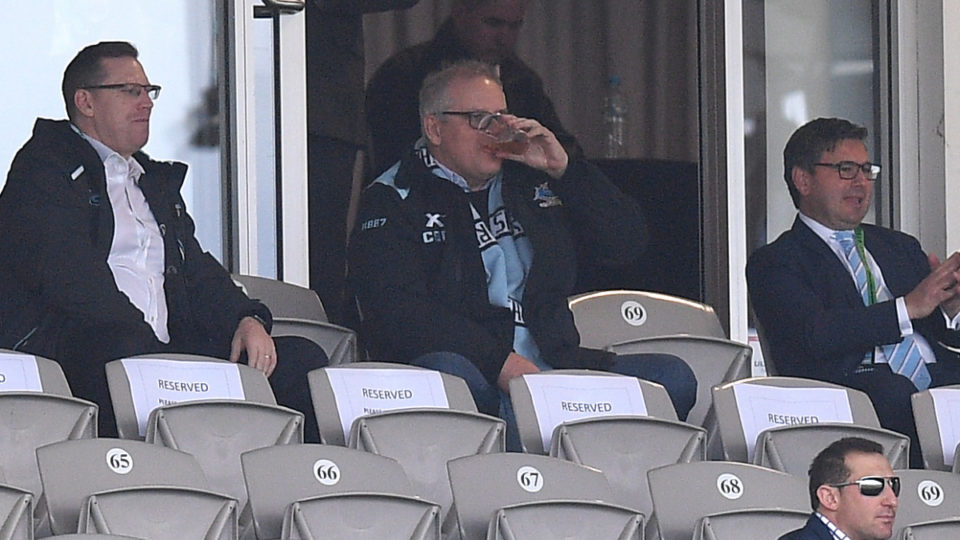 Scott Morrison has played down concerns he shouldn't be boozing it up in the midst of a crisis saying he wanted to spend time with his daughter by going to the footy and getting drunk with his mates while leaving her at home.
"The problem is. There is literally no other way to keep up to date with the footy," Mr Morrison told reporters. "I'm not aware of any modern forms of communication that exist that would allow me to see this game of football, let alone discover the score after the game has been played."
Insiders say the appearance at the Shark's game was part of an intentional strategy to rebrand Scott Morrison. "The Prime Minister was sick of being called Scotty from Marketing, and he wanted to rebrand himself as Scotty the Lazy Dickhead. It aligns more with his values."
An angry Mr Morrison said it was his right to flaunt his ability to go to the footy while Melbourne was in lockdown. "Are you wanting me to somehow empathise with people in Melbourne by have a low key week off, watching the footy at home and eating in?"
"Why don't Victorians try to empathise with me for once? Do you know what it's like to earn $500k a year and not be allowed to spend it on some fresh ones in a private box at the footy? Perhaps Victorians need to put themselves in my shoes."
Mr Morrison said he'd tried staying at home but it didn't work for him. "There's only so many times my family can put up with that one curry dish I make before they threaten to replace me with Peter Dutton. Which is pretty brutal."
Mr Morrison said there was only so much he could do as Prime Minister during a pandemic. "If people want to criticise, perhaps they take aim at the body that is actually responsible for running Australia: the Minerals Council of Australia.
OUR LATEST LIVE SHOW - BOOK NOW:
Share this story: