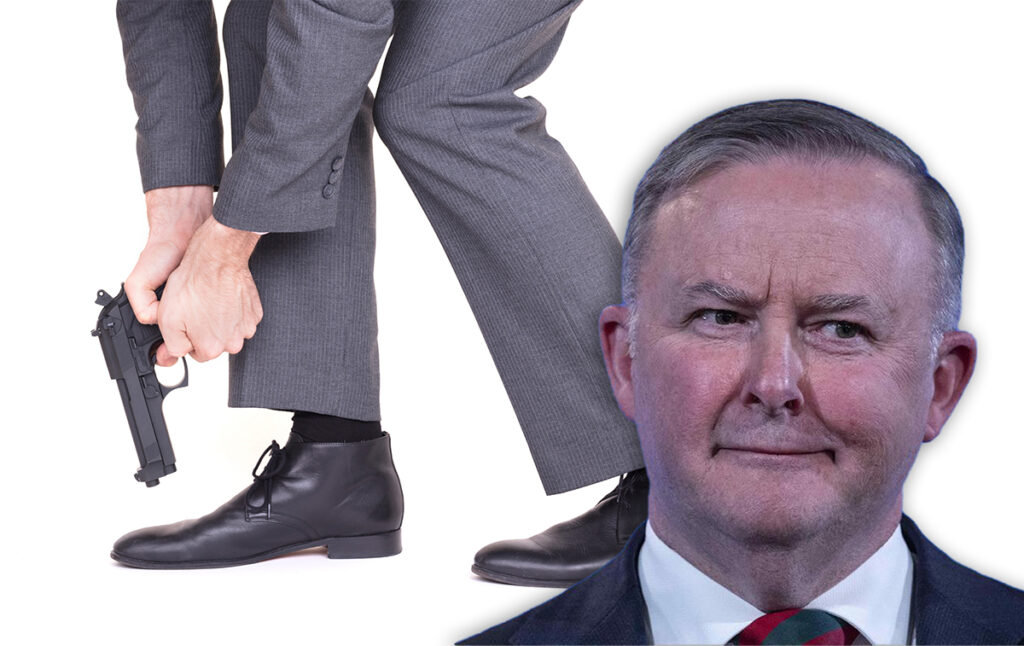 "Opposition" leader Anthony Albanese has called for the government to loosen gun restrictions to help the Labor Party shoot themselves in the foot.
Insiders say that nobody in the party wanted looser gun laws except for disgraced former minister Joel Fitzgibbon.
Fitzgibbon said that even though looser gun laws are extremely unpopular with voters, the Labor Party needs to embrace the policy to appeal to a small segment of Liberal Party voters who will never vote for the Labor Party anyway.
The move comes after a party review said that Labor should become exactly the same as the Liberal Party but with a different colour on its posters. "We should be helping quiet Australians," said Mr Albanese. "And who is quieter on all the major issues than our front benchers?"
"In the last few weeks there has been a worrying trend growing within our party, actually standing up against unpopular and dangerous decisions by the federal government," Mr Albanese said. "Standing up for things that matter would be a dangerous change of approach for our party which is why we always must have completely inexplicably stupid unforced errors to keep the status quo. That's where Joel Fitzgibbon is a real pro. Just look at his whole career."
"Luckily for the Labor Party we have people like Joel Fitzgibbon who will shut down the leftist elites within the party who want to appeal to a majority of the electorate, by stopping climate change. That's why we need to loosen the silly gun laws so we can shoot ourselves in the foot before things get out of hand."
---
If you enjoyed this article, consider becoming a contributor to the Chaser Beer Fund. For just $7 a month you can help us employ 20 more interns.
---