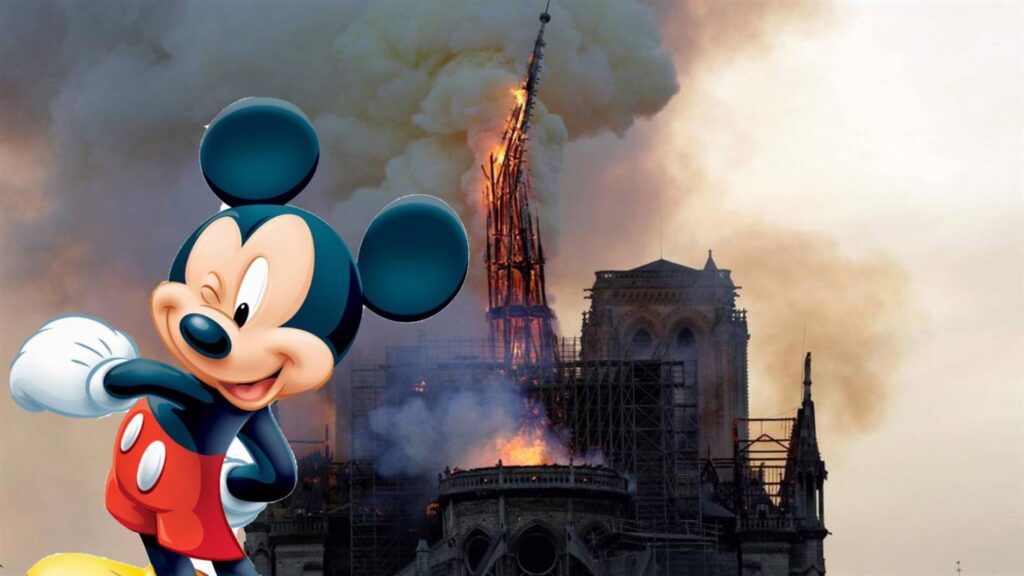 JUST weeks before the launch of digital adaptations of 'The Lion King' and 'Aladdin', the Walt Disney Company has again left fans divided after beginning their promotional campaign for an updated edition of 'The Hunchback of Notre Dame' by burning down the building in question.
"It's all part of our brand new corporate strategy," said outgoing CEO Robert Iger.
"We've acquired Star Wars, we've acquired Marvel, we got Fox, now we're moving from media franchises and agencies into historical landmarks. If banks and telcos can get naming rights for sporting arenas, 'Walt Disney's Notre Dame Cathedral' is a natural progression."
"People are always reluctant to embrace change – just ask Will Smith – but our Imagineers have got some great concepts; a rotating spire with a restaurant at the top, a lazy river and automated bells that play Top 40 hits to name a few – and our writers have been hard at work modernising Victor Hugo's classic tale into something more progressive and politically correct. 'The Singing Scoliosis Man' has a nice ring to it."
"This isn't just going to be a movie, or a ride. It's going to be a movie ON a ride. Why bore the kids with history when we can entertain them with historical inaccuracies and a few musical numbers? The church has had trouble enticing children and parents lately, so we're here to help."
While the incineration of the long-standing structure has been met with sadness and grief worldwide, Iger knows the change will ultimately be remembered as the right thing to do.
"People said Disneyland Paris would never work either, but now look at it. In a few years Notre Dame will be just another over-crowded, over-priced shithole that people seem to romanticise for no apparent reason."
OUR LATEST LIVE SHOW - BOOK NOW:
Share this story: