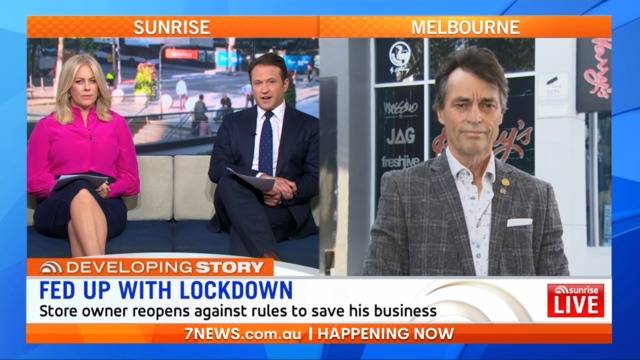 Sunrise host and living embodiment of Australian TV's diversity issues, Samantha Armytage has come under fire today for celebrating the illegal actions of a white business owner and calling for viewers to follow suit. Regular Sunrise viewers were shocked by the segment as Armytage managed to go an entire segment without the villainization of Aboriginal people or any people of colour for that matter.
Armytage has denied assertions online that she is a white supremist, despite that time she literally congratulated a girl just for being born white.
She made a statement earlier today.
"I think the way people are judging me and the law breaker for the segment is baseless and full of hurtful assumptions," said the woman who called for a second stolen generation then falsely implied the people she offended were violent criminals.
"That man is a hero for ignoring health advice during a pandemic. Just because he is committing a criminal act that could endanger people's lives doesn't make him a dangerous criminal. I mean hello, just look at him, he doesn't look like a dangerous criminal to me. I mean I am pretty sure he isn't secretly in whiteface."
"People keep making unfair judgements of me claiming I am racist, but I am far from it. I have a friend that is a person of colour; his name is Karl. People wrongly assume that just because I constantly give racism a platform on the show, defend racism as well as say a lot of racist things, that I am somehow racist and that isn't true. I believe it is what's on the inside that counts, and the outside. Well not the whole outside, mainly just the skin tone. Not to sound racist but I mean, it isn't surprising that black people wouldn't be smart enough to tell the difference."
"Later this week we will go further on this topic with an expert panel on the show, it will be real experts of racism. Just me, Andrew Bolt and Pauline Hanson, and moderated by Kochie. It's weird but people keep referring to Kochie as 'not as bad' whatever that means. But he and I are clearly basically the same. If we didn't agree on issues like this, don't you think he would have stood up to me by now?"
OUR LATEST LIVE SHOW - BOOK NOW:
Share this story: