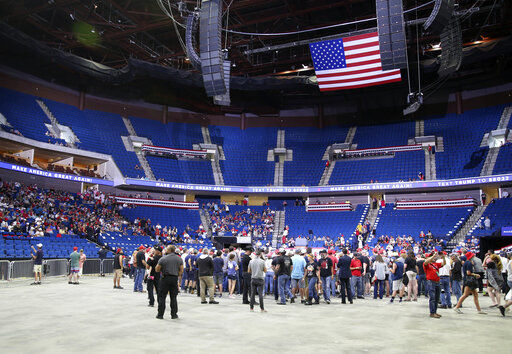 350 billion people have attended a Donald Trump campaign rally in Tulsa, according to Donald Trump.
Speaking to the actual crowd of around 50, Trump spent the first half of the rally counting the number of people there but got stuck on the 11th person when he ran out of fingers. He then loudly declared that 350 billion people were in attendance, a number much higher than the population of the human race.
Experts say a fear of coronavirus, and a fear of having to listen to Trump talk about himself for hours, likely dampened expected turnout.
At the rally, Trump boasted about suppressing the number of people who have been tested for coronavirus in the United States, which has seen the number of people testing positive decline. Insiders say he is now pushing the abolition of all medical testing, which would eliminate all medical problems in the United States.
Expecting a huge crowd, Trump had spent the last week practising drinking water one handed and walking down ramps in preparation for his campaign rally. Insiders say Trump is angry and devastated to have wasted so much time mastering those skills.
OUR LATEST LIVE SHOW - BOOK NOW:
Share this story: