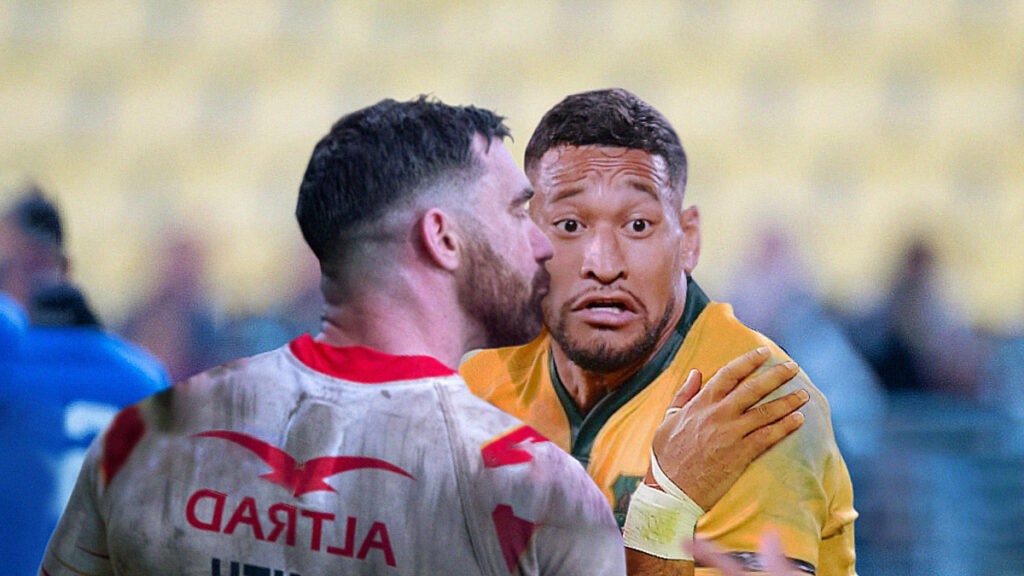 Less than 24 hours after signing with Super League team Catalans Dragons, football player Israel Folau has sensationally quit the club. Reports coming out of the South of France suggest Folau was initially stoked with the welcome party thrown for him, but that things quickly turned sour when teammates arrived and greeted him with 'La Bise'.
Catalans coach Jacques Strap was the first to go in for a smooch on the cheek, which is a customary greeting in the Perpignan region. Witnesses say they heard screams of "AHHHHH WHAT ARE YOU DOING!!" from a traumatised Folau before he began sidestepping the whole team who had their lips puckered up ready to meet him. Israel was however no match for boom young French fullback Pierre Leboys whose quick manoeuvring landed four kisses on Folau before he knew what happened. After passing out from all the commotion Folau was ironically carried out of the venue like a fallen Jesus Christ himself and placed into a cab on route to Paris Charles de Gaulle airport.
"God, get me out of here!" cried Folau to the driver. "I don't go in for that sort of thing."
When explained it was simply a customary French tradition with no sexual undertones, Folau was sceptical. "I just don't see why these French football players have to kiss other men," said Folau, "Why can't they just be more like us Aussies and greet each other by slapping each other on the ass while running around in skintight short-shorts. You know, traditional manly greetings."
---
If you enjoyed this article, consider becoming a contributor to the Chaser Beer Fund. For just $7 a month you can help us employ 20 more interns.
---