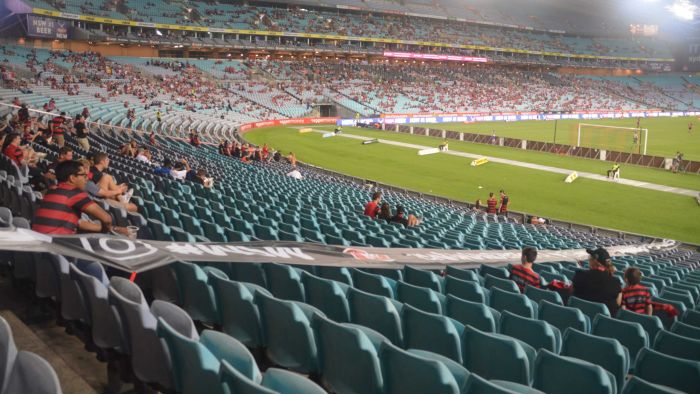 SYDNEY, Saturday: Interest in the soon to begin Hyundai A-League season is "lukewarm and cooling". That was the optimistic message today from the new Football Federation Australia chairman, Chris Nikou. With a self-imposed media blackout and the imminent threat of administrative collapse, Nikou was confident 2019-20 could even exceed the extraordinarily high levels of apathy of previous years.
"It's easy to fall into the trap of thinking that apathy will build if you just do nothing" said Nikou. "But after the  2018 World Cup and the almost success of the Australian team, there was a real danger that interest in soccer might grow this country, despite all our lack of effort. It's our job to make sure the threat never becomes a reality."
According to Nikou, success in damaging the profile of the sport can largely be attributed to the fixture. "It's been specifically designed to deter spectators. Twenty-six painful rounds of mediocrity will see even the most ardent A-League fans switch their attention to foreign leagues. Failing that, there are still ten laborious weeks of finals."
"The ten-week finals system worked particularly well for us last year because nobody understood the format," said Nikou. "Most fans gave up after the second week and the clubs weren't far behind."
Unveiling the A-League's new slogan, "How good's the English Premier League?", Nikou steadfastly maintained that apathy would continue to grow.
"It's been hard at times," he admitted. "But we've been working our butts off trying to stay out of the news. Since I started we haven't held one board meeting or press conference and most days we don't even turn up to the office. Now that's commitment."
Lowy lashed out at some sections of the media for conspiring to promote the forthcoming season. "SBS was poking around our stadiums with cameras but thankfully that stopped after we signed an ironclad agreement with Channel Seven which absolutely guaranteed no coverage at all."
"We also found a couple of community newspapers were printing fixtures for the season, but we threatened legal action and not one single fixture has been printed since."
"Our record speaks for itself. Membership is down, sponsorship is non-existent and club interest is at an all time low," said Lowy "Most clubs have even sent reminder letters to the players, to make sure they turn up to the first game. It's still early days but I think we may finally be realising the vision our founding fathers had when they moved the NSL season to summer. Now, promise me you won't give this announcement any coverage and undo all our good work."
If you enjoyed this article, consider becoming a contributor to the Chaser Beer Fund. For just $7 a month you can help us employ 20 more interns.
---