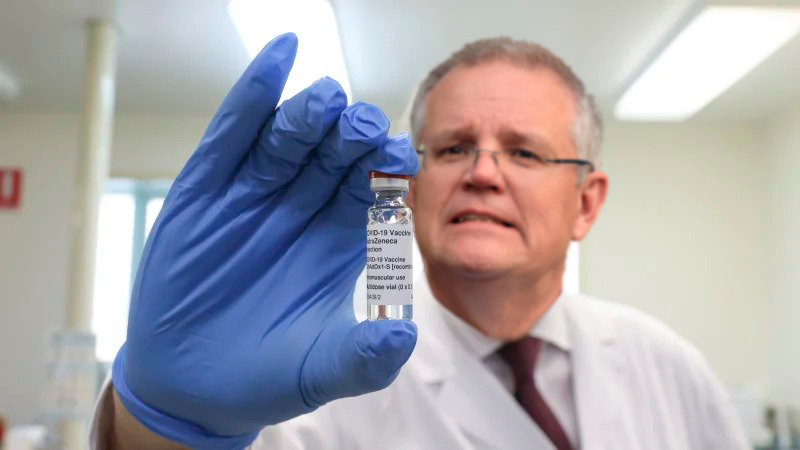 Prime Minister of some of Australia, Scott Morrison has today responded to the ongoing media speculation surrounding 'where the vaccine rollout went wrong', revealing that his government somehow missed the crucial 'starting the vaccine rollout' step of the vaccine rollout.
"So umm… funny story about that project actually," said the PM whose just glad to not have to discuss every other scandal in Aussie politics right now, "I just realised we somehow have forgot to actually start the rollout, that seems to be step of the plan that went wrong on this particular project. Looking back it probably should have been obvious that this is where we failed, well no biggy."
"To be honest, I don't even get how we could make that mistake. Must have been just one of those few months you know? Whoopsie. We all have those moments at work, it's the kind of mistake that happens anywhere in the country. It's just one minor step in the whole 'saving people's lives' thing. Personally I believe it the blame should be split between Dan Andrews, GTA 5 and Lil Nas X's new song. I don't know how they did it, but they are definitely to blame."
"Look slip ups are going to happen from time to time, and the rest of the time. I mean how was I meant to care about the covid roll out? I am not the prime minister for covid, I do not hold the needle and I am not the father to any covid vaccines. I mean clearly leaving work like this up to my government was a bad idea, really you should have known better. It's ok, we all make mistakes. I forgive you, you're welcome."
---
If you enjoyed this article, consider becoming a contributor to the Chaser Beer Fund. For just $7 a month you can help us employ 20 more interns.
---