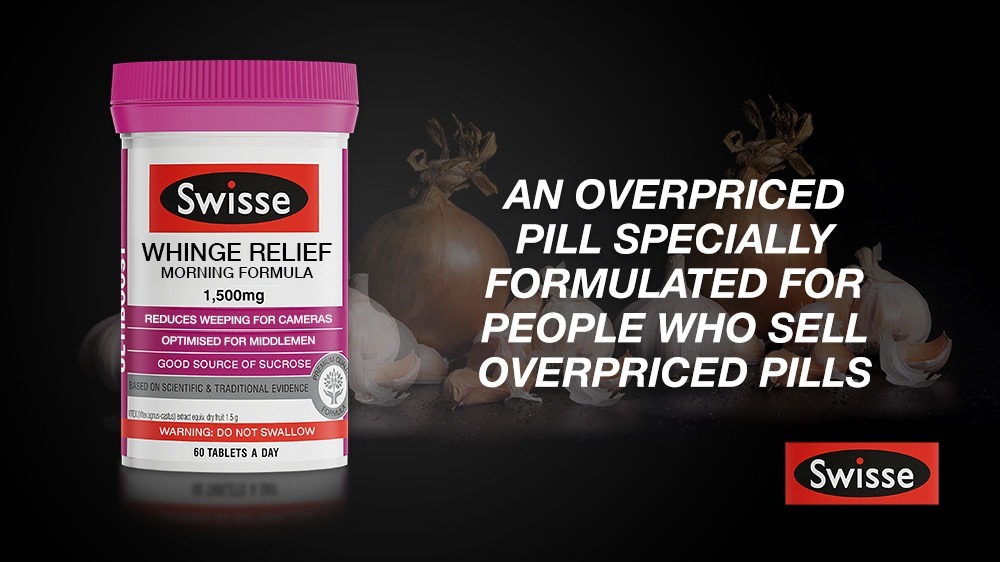 Vitamin brand Swisse has launched a new range of pills to help pharmacists cope with bouts of whinging, whining, weeping and foot-stomping that have been affecting them following the Federal Government's decision that will essentially halve the price of many medicines in Australia.
The new pill, dubbed "Whinge Relief", will come in several different varieties, "Whinge Relief AM" for use in the morning, "Whinge Relief PM" for use in the afternoon and "Weep Yourself To Sleep" for nighttime use. The vitamin brand recommended that pharmacists buy all three varieties.
Pharmacists can choose between regular strength or "Ultraboost" strength, which comes in a bottle with a slightly different colour and shape. The company recommends buying both.
The vitamin is specifically targeted at pharmacists who may be struggling with the impact of the government's policy, and promises to help pharmacists alleviate a range of symptoms associated with the policy, such as weeping in front of TV cameras, claiming that you'll have to sack all your employees, and nostalgically harking back to the halcyon days when Scott Morrison was Prime Minister.
A spokesperson for Swisse admitted that 'Whinge Relief' may not actually solve any problems, but it will give pharmacists another range of useless, overpriced products to push on gullible customers. "And our research shows that's what matters most to pharmacists."
But the launch of new range has been criticised by the pharmacy industry, who say Swisse is pushing them into buying products for their problems that don't actually work. "That's our job," said one chemist. 
Share this story: