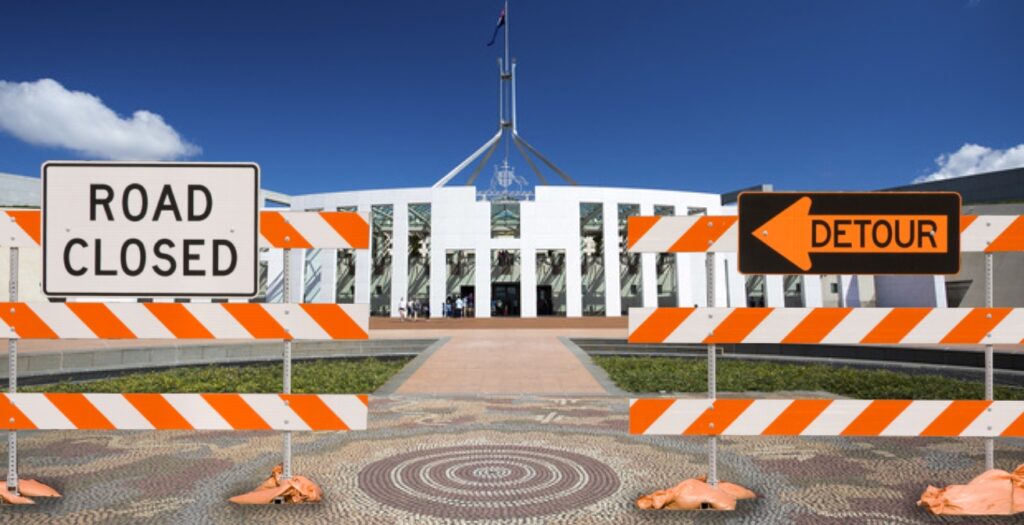 Part-Time Prime Minister and full-time Cronulla Sharks mascot Scott Morrison, has today announced that parliament will not be meeting until August 24 due the 2nd wave of Covid-19. The PM cited concerns that meeting in person could cause risks of spreading the disease not only between Canberrans and politicians, but he also realised it could even risk Cronulla Sharks fans and the PM doesn't want to risk a group of people he "actually cares about".
"How great is taking another break?" said Scott, a Sharks fan from the Shire, "Plus there's this pandemic thing to worry about too. I saw online people where criticising me for taking a week off and going straight to the footy risking spreading the infection, and you know what? When you're right, you're right and I have found a solution to reduce this admittedly unnecessary risk. I am shutting Parliament house down, that way I won't be risking my fellow fans. It's a win-win really, if anything this whole 'doing my job' thing was getting in the way of my support for the Sharkies. I realised I needed to get my priorities straight, it was either work or footy, so there was no other way."
"What people need to realise is we are in the middle of a pandemic, so if people can stay home instead of going to work they should. Also, we need to reduce our needless travel and people should not be going to another state or territory in a time like this. In saying that, if you work in childcare, teaching, a trade, a university, retail, food service or basically any other job under 6 figures a year you should really be looking to go back to work and back to living your regular life. Also, how dare these premiers close the borders? It's bloody Un-Australian! People should be going where-ever they like, especially those who need to travel for work. Plus, schools need to be running in person and there is no need for social distancing the kids, unless of course you plan to go on an excursion to parliament house or see a fellow Sharkies fan. We don't want to risk anyone who matters getting sick."
Sources tell us that the Prime Minister is open to potentially resuming parliament but only if it is relocated from Parliament House in Canberra, to a VIP box at Sharks games. "He is willing to do it, but he has reservations as making policy changes and acting like a leader during a pandemic might distract from his important work supporting his team and having his picture taken trying to trick the public into thinking he is just 'Scomo the relatable bloke'. Plus, the more decisions he makes, the less he can blame everything on Daniel Andrews."
---
If you enjoyed this article, consider becoming a contributor to the Chaser Beer Fund. For just $7 a month you can help us employ 20 more interns.
---