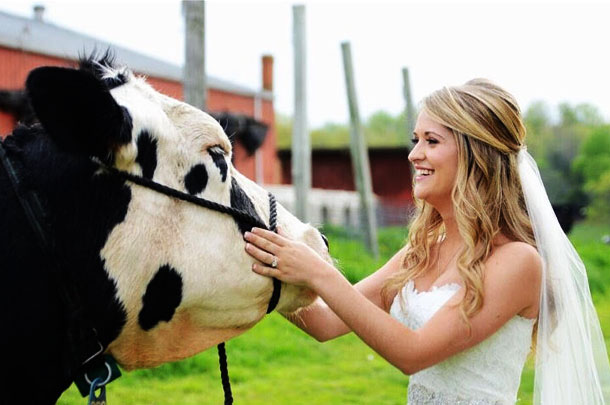 In what is sure to be remarked as a seminal day in the push for homosexual rights in Australia, the first celebrated same sex proposal has been between 42 year old cattle farmer Sharon Robinson and her beloved 10 year old cow named Wendy. Questioned about their special day, the couple reflected on their combined future together with Mrs Robinson stating "We've actually already put in all the paper work to adopt a child, we believe there is no difference between the love a man and woman display for their child, or the love of a woman and her loyal, sexy cow."
Reporters were allowed special access into the celebration, and were quick to note the changes the couple made to the traditional marriage proposal. In a twist on tradition, all men invited to the event were made to wear dresses, as required in the new marriage legislation, which provided a breath of fresh air to the traditional suit and tie attire. Children in attendance were also not forgotten, with special kids prize packs handed out, containing copies of the new safe schools program, soon to be rolled out in schools, requiring all children to become Marxist homosexuals.
Proceedings were topped off with a decadent "she said moo" proposal cake, made by a progressive baker from Melbourne, specifically without any dairy, sugar or morals. Mrs Robinson explained "initially we though it would be hard to find a baker who would make a cake with our sort of requests, but after the government locked any baker who was religiously conservative in the new detention centres on Holiday (formerly Christmas) Island, our choices became abundant."
The wedding has been proposed on Easter Day in 2018, with cardinal George Pell to lead proceedings by court order.
OUR LATEST LIVE SHOW - BOOK NOW:
Share this story: