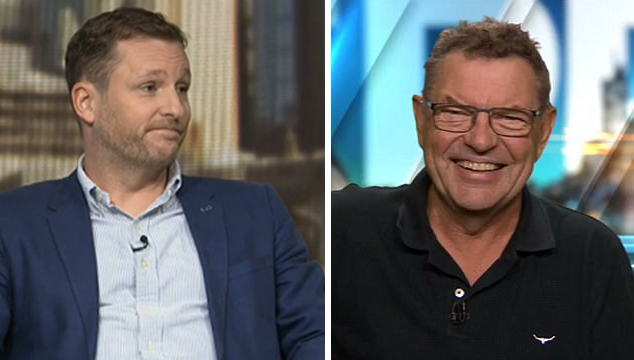 Big win today for co-host of The Project Steve Price after was dethroned as the 'biggest dickhead' on the show by Canberra bubble enthusiast and Christian Porter's PR manager Peter van Onselen.
This change up to the rankings has come after PVO really revolutionised what it means to throw away all credibility while going to bat for 'one of the boys'.
"I can't believe someone has beaten me," said Pricey concerned that he might lose his job now that someone else makes for good outrage clicks, "I have to admit it has been well played by Peter in the last few weeks. Pushing already debunked conspiracy theories to attack a deceased victim and retweeting the head of a white-supremacist website when she defends your integrity, that's some top notch commitment to being a dickhead right there."
"I will admit when I had heard something about 'Peter is the new dickhead', I assumed they meant Hellier but, no, apparently not. I was just a bit confused cause the first time I heard it was from a woman and I wasn't going to pay attention to that nonsense. But yeah even I haven't attacked the credibility of a dead woman like PVO has, he is a true master of the craft. What a lad!"
"Sometimes you just have to risk it all and do whatever you can," said PVO really showing why he is at The Australian, "I don't care how many deceased victims I need to attack. I will do whatever I can do discredit anyone who comes at one of the boys. See the idea came from re-reading my reports on Morrison wanting to smear Brittany Higgins and those close to her, I thought 'I could do that and I won't even get called out by me'."
"Also yes I am friends with Porter, but no it doesn't affect my reporting on how the victim was a looney who can't be trusted. Anyone who says otherwise is just pushing cancel culture, see they are the real dickheads here."
---
If you enjoyed this article, consider becoming a contributor to the Chaser Beer Fund. For just $7 a month you can help us employ 20 more interns.
---