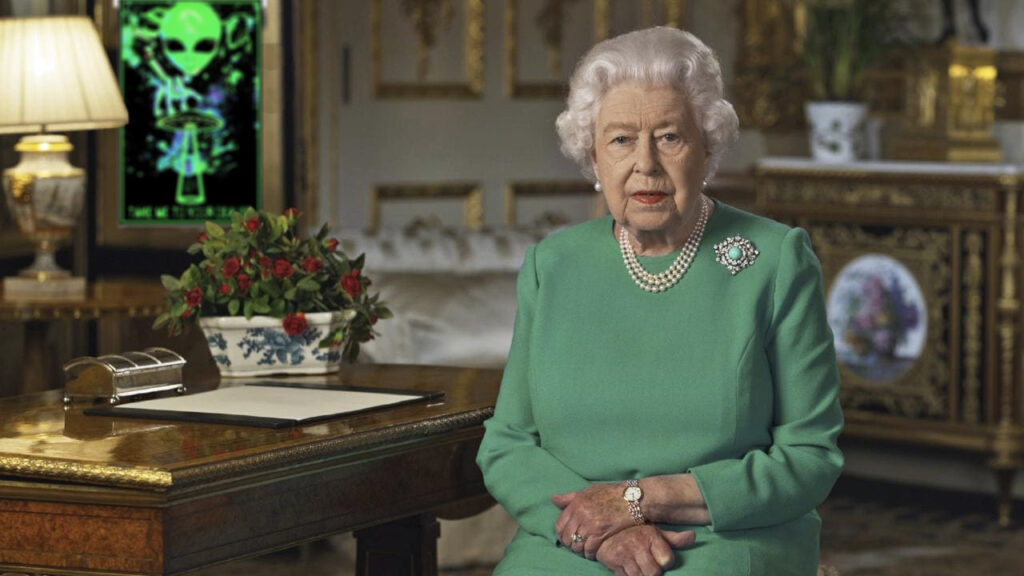 The Queen has admitted she hid a poster she got in 1998 from the nation before broadcasting her historic coronavirus address. The poster depicts an alien holding a joint with the words 'Take Me To Your Dealer' underneath. The alien is smiling and the implication is that it is stoned.
A palace source said that the poster was visible in the first take, forcing Her Majesty to press stop on the video camera and hide the poster behind a suit of armour. The second take shows a boring painting of a room behind Britain's monarch, and an angle poise lamp.
The source said "The Queen's interior design aesthetic is heavily influenced by the baroque
and Edwardian eras, and also by visual elements present 90s sharehouses. Anyone lucky
enough to be invited in to the private areas of Windsor Castle might spot a lava lamp, a
Speed 2 VHS or an ashtray in the shape of a gun.
The 'Take Me To Your Dealer' poster was removed before the address to the nation in
accordance with palace guidelines, which state that post-1950s décor should not be shown.
This is believed to be why the nation has never seen Prince Charles' collection of Funko Pops or Prince Andrew's porn stash.
OUR LATEST LIVE SHOW - BOOK NOW:
Share this story: