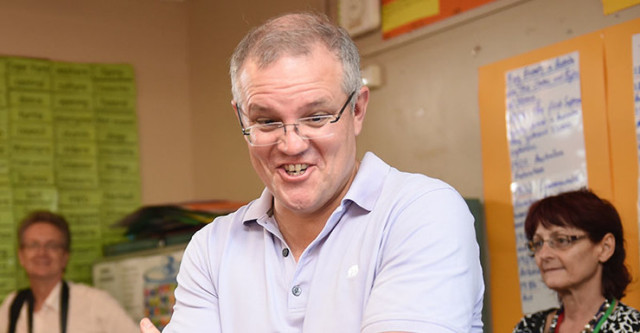 Self-proclaimed 'typical family bloke' and 5th highest paid leader of a country in the world Scott Morrison, has today finally responded to calls asking his government to address the issue of the sustainability of the Childcare industry. The Prime Minister responded to the issue with confusion as to why regular Aussies would use a childcare centre instead of just having the children looked after at home, by the family au pair or nanny like 'ordinary blokes' do.
The Prime Minister spoke to us earlier today after we agreed to mention he 'coincidentally' wore a brand-new set of Sharkies gear and drank a mid-strength beer during the interview, "Australia is going through a recession and we all need to do what we can to help the economy, so why waste money on Childcare when you could just use your Au Pair or Nanny like the rest of us! You don't need childcare centres and nannies, that's just a waste of money. If the Nanny needs a break, get the Au Pair to handle it, between the two of them they should be able to handle it. Like many quiet Aussies do every day."
"I have seen people question whether gender bias went into the decision making around cutting funding to a female-dominated industry we have previously deemed essential. But no, we just don't believe it's essential. We have heard many fathers voice their opinions that they need their kids in childcare and mothers whinge and moan about how they apparently don't have other options, but the women just droned on and on so I lost interest in the topic. Then as a gesture we spoke to many ladies in the industry and they were so annoying. Blah, Blah, Blah. I am glad we made all our decisions before talking to these industry 'experts'. I mean they had this stuck-up tone, it was really 'know it all', so the lads and I found them obnoxious. How was I meant to know they did actually know what they were talking about?"
Finally, he explained the difficulties he is facing making the decisions around child-care, "Look I guess maybe with people working from home, they might want the kids out of the house so Nanny won't do. The issue now is these lazy unemployed or low-to-middle income people want free or heavily subsidised childcare and the childcare industry want to get money based on the amount of kids they have on each day. As far as I can tell there is just no way the government could intervene in a way that does both."
---
If you enjoyed this article, consider becoming a contributor to the Chaser Beer Fund. For just $7 a month you can help us employ 20 more interns.
---