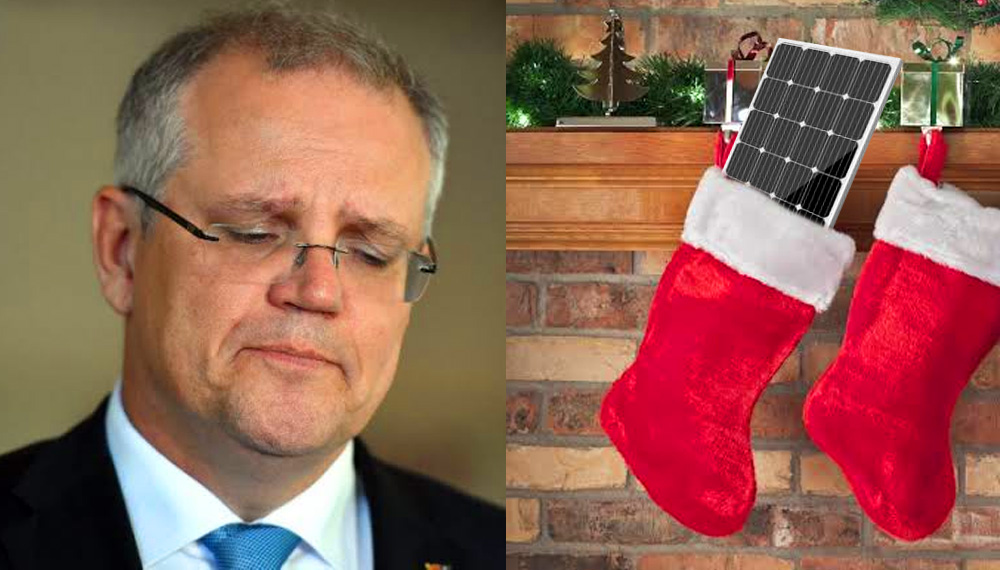 Prime Minister and future BHP board member Scott Morrison has today declared Christmas cancelled after awaking to rummage through his Christmas stockings, only to find them filled with sources of renewable energy.
"What, where's the coal?" cried Morrison as he frantically searched through his gift bag of solar panels and wind turbines, "I've been so bad this year, I ignored climate change, I holidayed during a national disaster, what more could I have done!"
However Santa has explained that in actual fact, it was exactly Morrison's actions that forced him to change tactics. "You know I used to give out coal to bad kids, but for Scott it seemed like that was just motivating him to be worse," explained St. Nick via Skype today, "this really is more of a punishment for him."
However, Scott was not the only naughty child to receive renewables in his stocking this year, with Santa having completely phased out the use of coal in his process since 2017 as part of his requirement to meet the Kyoto Protocol targets. "You know, a lot of people think that the Arctic is carbon neutral, but that's just not true," explained Santa, "I'm actually one of the most prolific users of air travel in the history of the world, you really should see my frequent flyer points. So anything I can do to try and balance that out is crucial in the battle against global warming. After all, I don't want my entire home to melt, do I?"
With thanks to Andrew Smith for this festive idea
---
If you enjoyed this article, consider becoming a contributor to the Chaser Beer Fund. For just $7 a month you can help us employ 20 more interns.
---