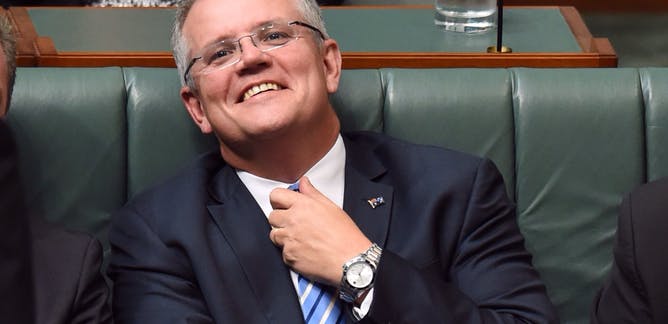 Prime Minister Scott Morrison has today made an uncharacteristic and shocking move by owning the fact that he made a mistake and apologising for it like a grown up. After a brief trip to the hospital to make sure he hadn't fallen ill, Morrison's team clarified that he did so honestly and of sound mind and body or whatever the equivalent of that is for him.
The apology in question was directed to one of the country's 50 living former Prime Ministers, Kevin Rudd, after the PM blatantly lied about Rudd somehow using all the exemptions and quarantine hotels despite Rudd never leaving the country.
With Rudd now knocked off the to-do-list, the self-proclaimed handy-man still has to get around to the 30,000 stranded Aussies, all of the victims of Robodebt, all the sports teams that should have gotten grants but didn't, the homeless, anyone who needs to use family court, all the drought riddled areas that should have gotten water but didn't, bushfire victims, the environment, refugees, the families of refugees who he tried to get blocked from being able to attend their funerals, POC, LGBTQ+ people, the disabled community, Aboriginal and Torres Straight Islanders, anyone who isn't super rich, tax payers, young people, the elderly, the childcare industry, the ABC, David McBride, Dan Andrews, the entire city of Melbourne (Bolt not included), Bunnings employees, Engadine Maccas employees, Lara Bingle, everyone who has a nickname where you chuck 'o' on the end, his neighbours, God, daggy dads, any unlucky bastard he forces to have a schooner of mid strength beer with for a photo op, Greg down the road (he knows what he did) and Cronulla Sharks fans for somehow even managing to hurt their reputations.
Scott Morrison announced that he does have plans to make things right with all those groups, giving a heartfelt statement at a press conference today. "Look I've made a lot of mistakes and I am sorry," said a tearful Morrison. "First things first, sorry to all those affected by the bushfires who lost something special while I abandoned them for another country. Of course by that I mean the people of Hawaii having to loose me as their guest. I am truly a down to earth and humble guy bloke but the whole fires thing got in my way."
"To anyone struggling financially I would like to say sorry to Gina, Harvey and the Murdochs who haven't been able to make as much money as they should. To the complainers who don't earn enough money, just earn more dummies. Do what I did and give yourself a raise. To the taxpayers who feel I constantly waste their money, sorry you aren't rich enough to not pay tax maybe if you were you would be getting more of those handouts you want. To the disenfranchised groups of Australia, I am sorry that you aren't a straight white guy, or if you are a straight white guy, I'm sorry you're not the right type. And lastly to the Aussies stranded overseas I am sorry that you aren't a good enough actor for Peter to give you a free pass. Maybe think about your decisions while you sleep on that park bench tonight."
"God that felt good, I'm pretty good at this aren't I?"
---
If you enjoyed this article, consider becoming a contributor to the Chaser Beer Fund. For just $7 a month you can help us employ 20 more interns.
---