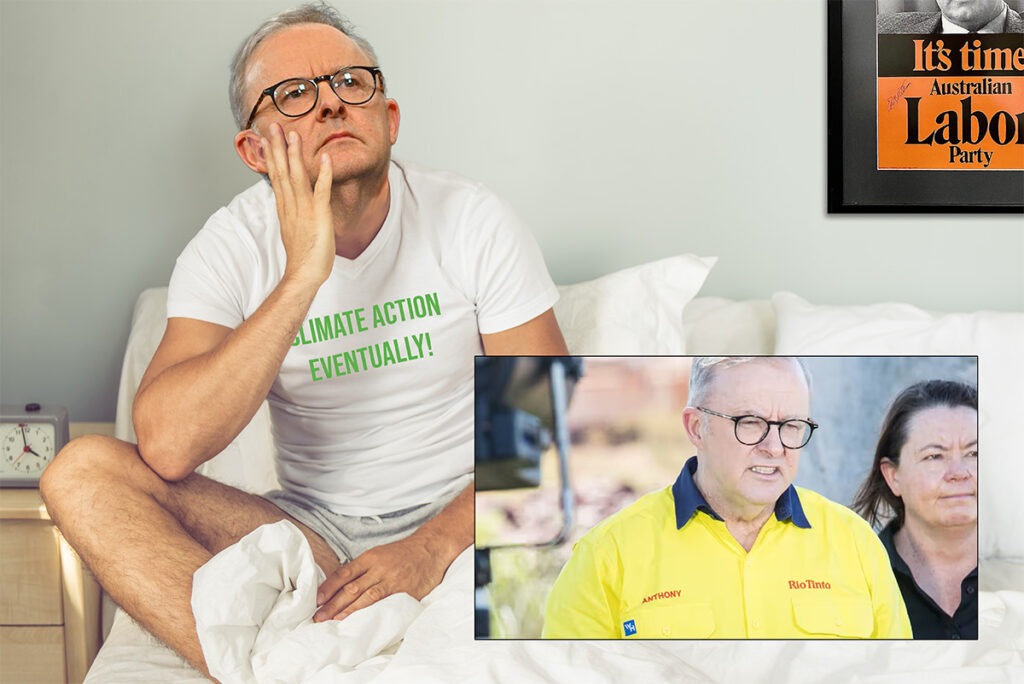 Prime Minister for Coal Anthony Albanese has released a statement apologising for wearing a personalised Rio Tinto Mining shirt at a press conference last week, stating that he accidentally got out on the right wing of the bed.
"I deeply apologise to all those who were offended. I was in a hurry to get out the door and so rather than go dead centre out of bed I rolled to the right which tends to happen when I've got climate change on my mind," he said wearing a 'Climate Action Eventually' shirt. "It was an honest mistake and I'm sorry, I normally don't let you see the side of me that leans to the right but every now and then it comes out"
The Prime Minister had stated that the outfit was meant to inspire solidarity among the tradespeople of Australia doing it tough with the cost of living.
"I was thinking I'd relate to the common worker so I put on a crisp, personalised hi-vis shirt that had never been worn before. You get one every time you reach over $100K in political donations, so I've got a whole cupboard full of them."
"To be honest my room at Kirribilli has always sloped a bit to the right so it's a real effort to go full leftside. I've managed it once or twice but centre-left is typically the best I can do."
Several former Prime Ministers have spoken out in support of Albanese in a rare display of bipartisanship.
"Getting out of the right-wing side is something that I think every Prime Minister has to go through at some point. It is hard when the Australian public see that you're actually not that different from the last bloke," commented Malcolm Turnball outside his mansion in Point Piper.
"It really isn't our fault, sometimes your true colors show and I don't think any Prime Minister wants that."
OUR LATEST LIVE SHOW - BOOK NOW:
Share this story: