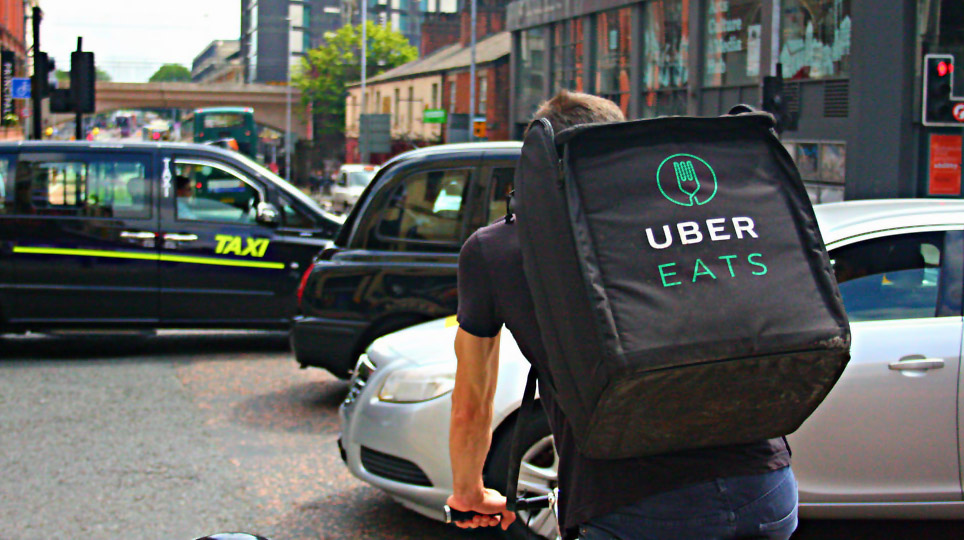 Food delivery business and dystopian future cliche Uber Eats has today been summoned by the ACCC to deliver evidence, along with sweet and sour pork with fried rice, to the consumer watch dog's headquarters following claims that the company has been forcing restaurants into unfair and illegal contracts. The ACCC delivered a statement to the press today announcing "Uber Eats has been accused of writing and enforcing unfair contracts on the businesses they deal with, and thus the ACCC will begin an investigation on these alleged practices, right after a succulent Chinese meal of course, wait should we get spring rolls for entree, or dumplings?"
Uber Eats has since released its own press release, stating they will be complying with all the ACCC requests, with the popular food service hand delivering the evidence by way of an exploited foreign cyclist.
"Uber Eats are more than happy to deliver fresh evidence to the investigators at the ACCC," said an Uber spokesman this afternoon, "and if the investigators find that any of the evidence isn't fresh enough, or up to a suitable consumption standard, then we will be sure to refund them in full by forcing the supplier to pay the refund without evidence of wrongdoing."
"Wait, shit, we're the supplier!"
The ACCC have said they will take into account the cooperation of Uber Eats, with investigators stating they were impressed with Uber's response to their requests. "We've never been able to track the delivery of our evidence before and watch in real time as it makes its way to our offices, this Miguel Sanchez really knows how to cycle through the city!"
Uber CEO Dara Khosrowshahi has told reporters that he was more than willing to work with investigators to clear Uber Eats name, as long as their offices "aren't up some fucking hill, or more than a half hour drive from Uber HQ."
Despite allegations of unfair working conditions, Uber cyclist Miguel Sanchez says that he hopes the investigation doesn't see Uber Eats shut down. "Without Uber Eats I'd have to go back to Argentina," says Sanchez, "or even worse, go and work for Foodora."
Update: The ACCC has since announced they will be penalising Uber Eats, as their delivery was 10 seconds late.
OUR LATEST LIVE SHOW - BOOK NOW:
Share this story: