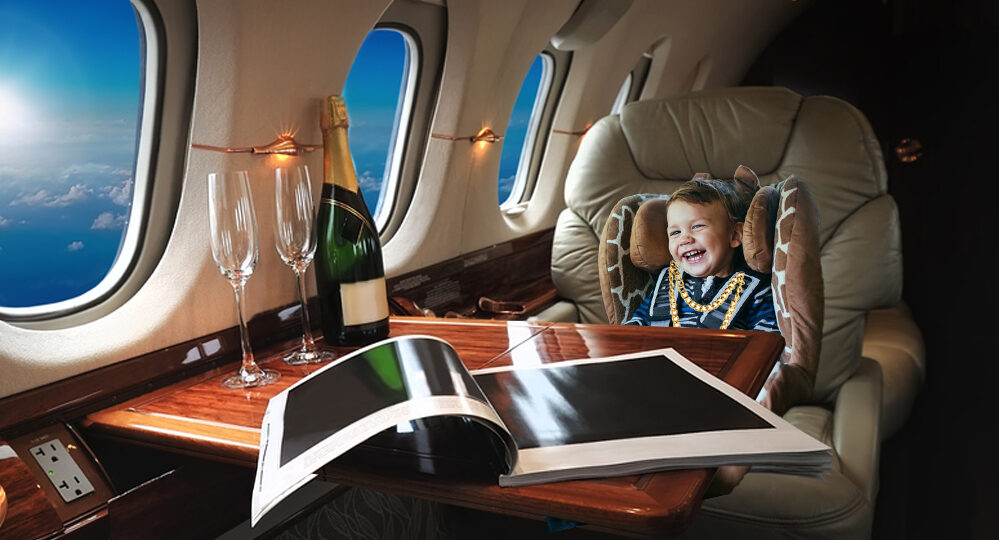 In the last few years we have seen a significant increase in the amount of fluff pieces about 'young self-made entrepreneurs', but none are younger and more self-made than 6 month old entrepreneurial genius Timothy 'Timmy' Kennedy the 14th. His story and secret to success are inspiring to say the least.
Growing up in Bel-Air, USA, young Timmy has had a surprising amount of experience in entrepreneurship for a baby. Through hard work, determination and an eye for future trends, this baby was producing as many amazing money making ideas as he was producing poopy diapers. With an investment portfolio that includes multiple mansions, apartment buildings, banks, casinos, off-shore banks and a large amount of stock in his father's multibillion dollar business, this self-made multimillionaire is already on track to be a billionaire by the time he hits the terrible twos.
We spent a day with Timmy and his family to find out his secret to success.
"Goo goo ba ba," said Timmy after a session of pumping and dumping cryptocurrency while watching Sesame Street, "ha brrrrrrr. Aaaa, aaa. Elmo. B-b-b-ball, ball." Which turned out to be a historic moment for us to be able to witness as that excitement for a ball was what led to Timmy's father buying him the Los Angeles Lakers.
Starting with a small gift of $20 million dollars from his father, Timmy knew he would need to be smart with his money if he wanted to succeed in this world. According to Timmy's accountant much of his success comes down to smart money saving tips like living with his parents, only buying 3 coffees a week, tax avoidance and recently killing off the competition leaders to take full control of the cocaine industry for the entire continent of North America. Quite an impressive business plan for such a young baby.
OUR LATEST LIVE SHOW - BOOK NOW:
Share this story: