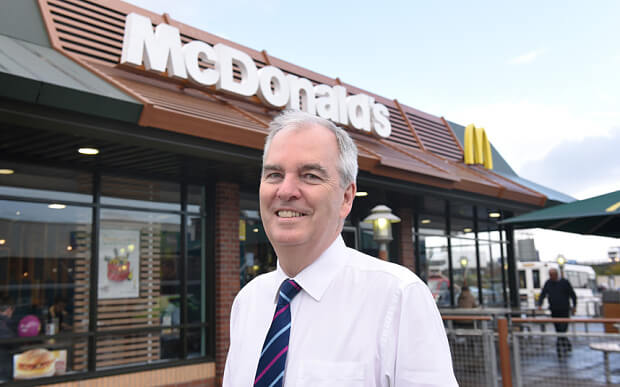 AUBURN, Friday: Starting your own business is a big challenge. And no-one knows that more than Walt Palmer, 52, of Auburn. After years of meticulous planning, Mr Palmer yesterday realised his dream of creating his very own business when he opened the doors of the new McDonalds, Auburn East (Wilson St).
Getting to opening day at all was a painstaking process. The final menu, says Palmer, was the result of months of careful consideration and was varied a number of times to keep up with the special offers market. "But the hardest decision of all was working out the décor," Mr Palmer revealed. "You want a place that says something about who you are as well as meeting the expectations of the families our restaurant caters to."
Palmer says he has always liked chairs which are screwed to the ground (he has a set bolted to his living room floor) and so he decided to install these in his new business. An efficiency guru, he also had a clear preference for plastic greenery, which he describes as "attractive and low maintenance". But the biggest decision of all was the major colour scheme. "I went through a million combinations in my head" admitted Palmer, "but eventually I went for the red and yellow scheme. It has a certain traditional elegance which fits with the sort of atmosphere we're trying to create here. And in the drive-thru".
Palmer says that the yellow and red went well with the logo he decided to have for his new restaurant. "For some reason I had always imagined using a big yellow M, kind of like golden arches, for my McDonalds store," said Palmer. "The bigwigs at corporate headquarters agreed with my choice. Not that I cared – it's my store afterall."
---
A version of this article originally appeared in Issue 22 of The Chaser newspaper
OUR LATEST LIVE SHOW - BOOK NOW:
Share this story: