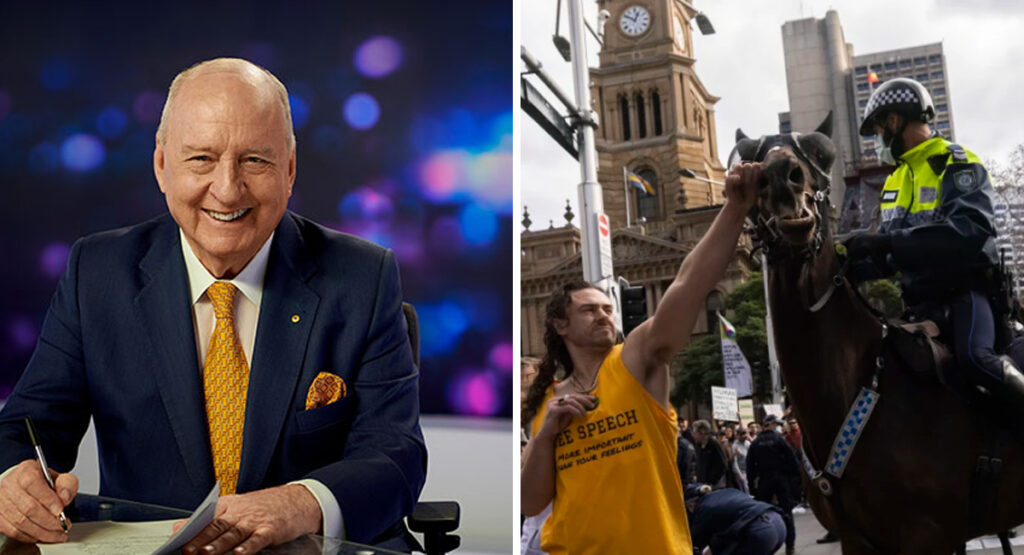 Sky News presenter and 'angry fuckwit' enthusiast Alan Jones, has put out a statement today in regards to the anti-lockdown protests that were held nation wide today. Mr Jones proved the country is fucked after he expressed joy and gratitude, thanking the protesters for fighting against the brutal 'far-left' dictators in charge of Melbourne, Sydney and Queensland obsessed with stopping the coronavirus.
"To everyone who protested against basic health measures I owe you a great deal of thanks," said Jones in-between rants about racist conspiracy theories, "you have done so much good for this country. I knew something was wrong with all this nonsensical anti-covid bias, ever since I saw more ratings skyrocket when I started telling people not to lockdown or get vaccinated. I am glad to see my hard work pay off."
"I haven't been this proud of Sydneysiders since those nice blocks who followed my lead back in Cronulla 16 years ago. When I saw footage of that man punch a police horse in order to fight for the right to spread covid, it well brought a tear to my eye frankly. It proves why we are so much better than those disgusting 'Black Lives Matter' terrorists, they are so violent for no good reason."
"Thank you all for listening to people like me in our fight against the big media. We are just the little guy here at Newscorp and we are here to bring you the truth, occasionally, enough to legally call ourselves the news. So please go out and the spread the message and covid, the longer we are in lockdown the better for our ratings. Shit I mean the shorter we are in lockdown the better for humanity!"
In response a representative for the Coronavirus has also put out a statement thanking the protesters for all the support they gave the virus today.
OUR LATEST LIVE SHOW - BOOK NOW:
Share this story: