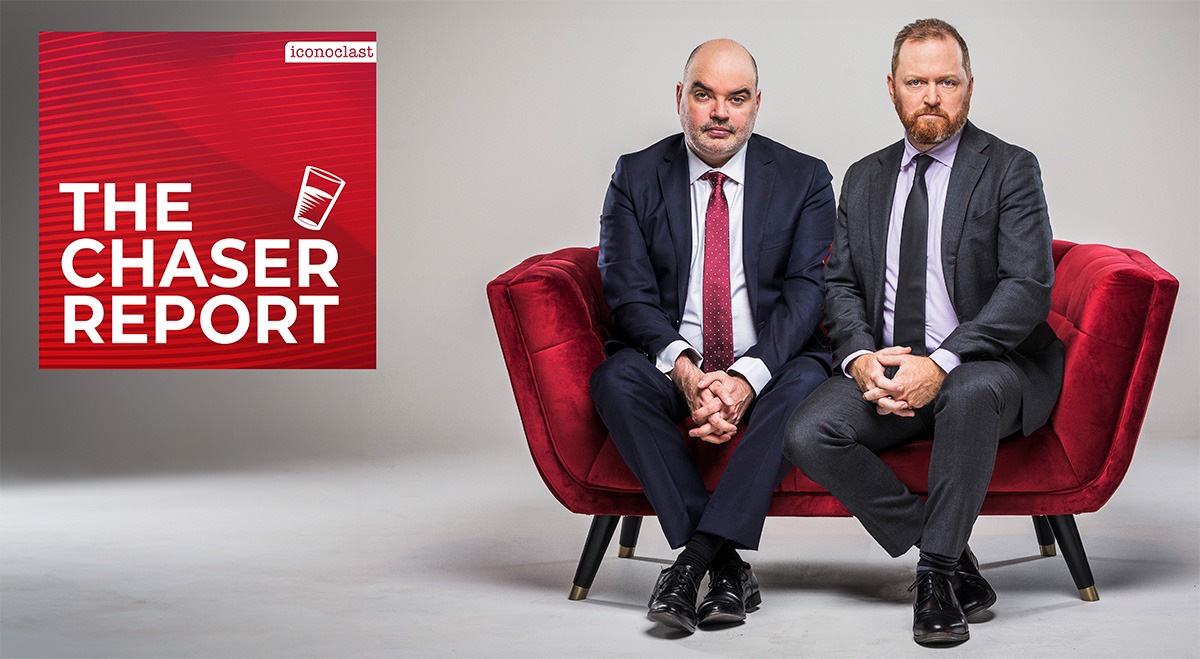 Where to find the latest epiosdes of The Chaser Report?
Avo' Merry Christmas
How to Always Win the Lottery | Just the Gist
2022, The Year That Got (Shitter)
2022, The Year That Was (Shit)
AI Replaced Our Interns
Cheesiest Episode Ever
Top 14 News Moments of 2022
Trump Grabs 'em by the Cuntstitution
Kanye West's Unrequited Love
Politics of the Playground
VictoriaStan Revolts
Scott Morrison is Australia's Elon Musk
QANTAS Tried to Lose Our Bags
Matt Guy Wins!
Herald Sun Loses Victorian Election
Do Any Real Estate Agents NOT Suck?
Qatar Government claims stadium builders died of 'Football Fever'
A Small Crypto Loan of A Billion Dollars
Hardcore Twitterography
Victorian Children See Sun for First Time
Trump 2024 Begins!
Crypt-Oh-No!
Victorian Leader, Stairman Ow
The Fall of Twitter, Truss and Democracy as we know it
We're *Officially* the Worst Business ever
American Midterm Wrap
Capitalism is the problem
Elon Musk charges $8 for Free Speech
In Liz we Truss
LIVE at Grapes of Mirth Pt3
LIVE at Grapes of Mirth Pt2
LIVE at Grapes of Mirth Pt 1
Please buy our stupid pool toy
Algorithm Hygiene
Big Bash Budget
Chopper's Hitlist
APEC's 15th Anniversary | War Stories
Frankly, IDGAF
Sponsored by Tourism Qatar
Wagyu Been Paying Attention?
Australia wins Greenwashing World Cup
Bob Katter's confession – EXCLUSIVE
The UN-Latham Party
The Russia Today Report
Rage against the Protein
An Unacceptable Cop-Out
I've Got Notes
Unmasking the Optus Hacker
Guess Who's Back??? Gabbi Bolt!
Tripping down memoir-y lane
Hacks work for Optus
Steve Price Likes Watching Schoolboys!
The Chaser's Hottest 100
Requesting our way to Hottest 100
Britain's Truss Fund
Optus say YES to Hacking
Ukraine on the Membrane
Overdosing on Placebos
Elk Dundee