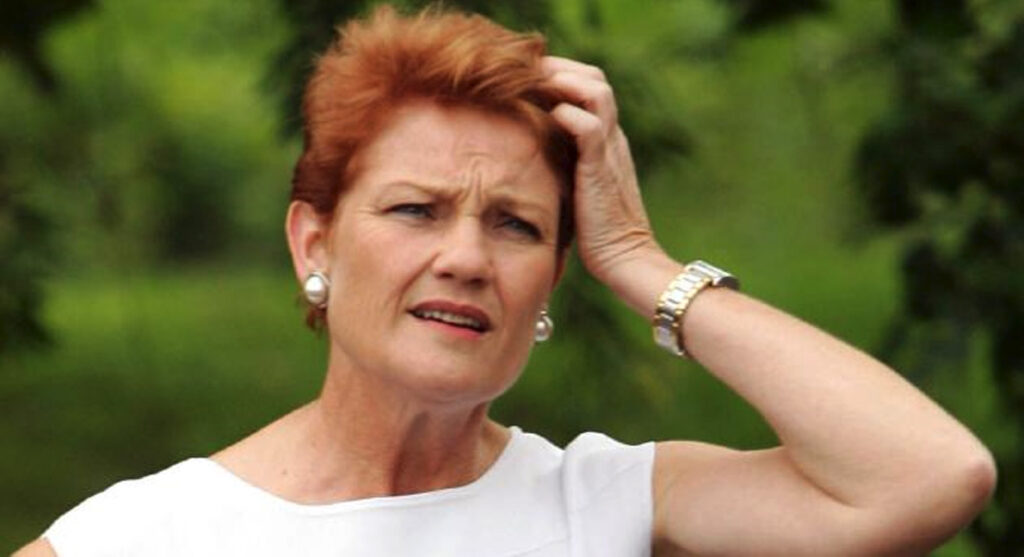 Conservative firebrand and anti-squat toilet freedom fighter Pauline Hanson has today stepped down from her seat in Parliament, and then resigned from it, after discovering that she is actually a dual Chinese-Iranian citizen, and has never actually held an Australian citizenship at all.
Speaking to the press today, Mrs Hanson says the discovery that she is actually an Asian-Arab migrant from the Fars Province of Iran, has not in any way softened her views against ethnic minorities. "If anything this has just strengthened my resolve," said Mrs Hanson in front of a crowd of her two remaining supporters. "Just the fact that I could come into this country and so easily steal the job of an honest hardworking Australian anti-immigration campaigner only proves what I've been talking about this whole time! Boy, thinking about me really makes my blood boil, and I promise you, I will not rest until people like me are deported from this country and sent back to where they came from. Who's with and/or against me!"
However the announcement has not gone down well with Mrs Hanson's long time supporters, with many now vowing they will reconsider voting for One Nation in light of learning that Mrs Hanson was not an Australian citizen. "I've always admired Mrs Hanson," said former rural Queensland supporter Sheila White. "I've stuck with her through thick and thin, from the time she went to jail for electoral fraud, to the time she used parliamentary privilege to attack autistic children, to that odd period in the 90s where she started a singing career and began touring Sydney's gay bars. And now to learn that she actually duelled someone who was Chinese? Boy, what a woman! She really is just the … wait what? Dual Chinese-Arab citizen? I … oh dear. Could you excuse me just one second? DARREN GET OUT HERE, AND BRING THE PITCHFORKS."
New One Nation Leader Malcolm Roberts could not be contacted for this piece as he was in Korea at the time of publication, visiting his parents.
OUR LATEST LIVE SHOW - BOOK NOW:
Share this story: