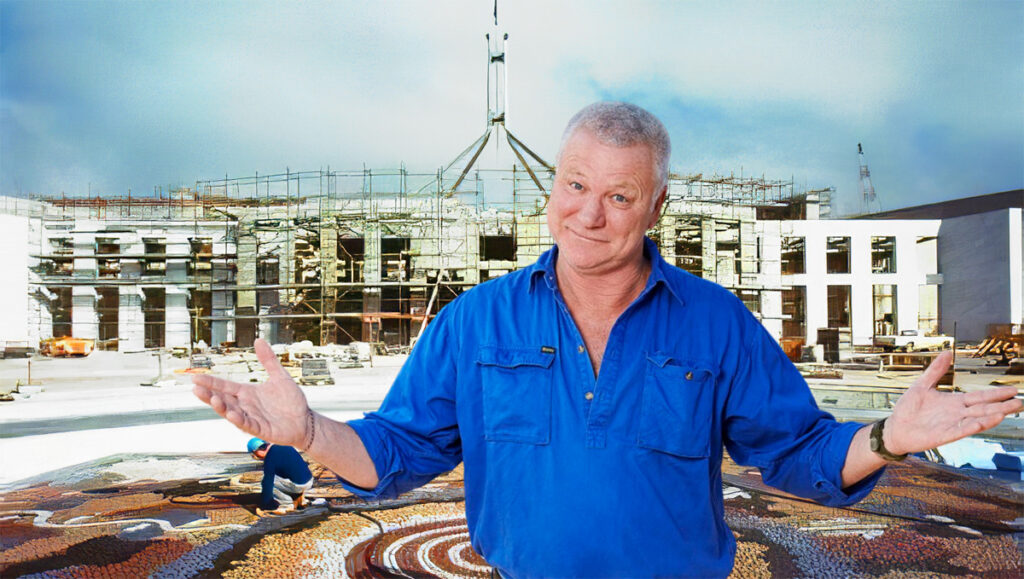 Parliament House has today become home to the latest series of the Block, after popular TV host Scotty Cam was recruited to redesign the entire government in under 30 days.
"Christ, what a mess," Cam could be seen saying today as he toured the pre-renovation Parliament House, "God how is anybody going to fix something this broken, they've sure got their work cut out for them."
The move comes as Deputy Prime Minister and part time cow-dung truther Michael McCormack announced a surprise Christmas holiday to the Cayman Islands following a "really tough week of being Prime Minister", forcing Cam to step in as Prime Minister.
Asked why Cam had been recruited given he is only a government ambassador, members for the government said that they might as well seeing as he's already being paid as much as the Prime Minister. "Well we looked at the options – from Angus "Good Job" Tailor to Peter "Au Pair" Dutton and it quickly became clear that nobody in the entire government was qualified to take up the role of Prime Minister," explained Liberal Party member and former Terminator Mattias Cormann. "But then in walked jobs envoy Scotty Cam an a lightbulb struck us. And after he helped us fix the dodgy light fitting, we suddenly had the great idea that he could step in as PM."
Asked what he will be doing during his time as Prime Minister, Cam said that his first priority will be to reassure the nation about the fires with frequent live updates and visits to local communities, after which he will be restoring the arts sector, scrapping robodebt, implementing universal dentalcare, removing Franking Credits through a ten year diminishing returns plan, re-implementing the carbon tax, upgrading the NBN to fibre-to-the-premises, providing the indigenous people a place in the preamble to the constitution, breaking up the banks, nationalising the aged care sector and doubling its funding, implementing a universal basic income, phasing out coal exports while using government income from the sector to subsidize new jobs in exporting green energy technologies, and then if there was any money left over in the budget he will consider putting in a water feature.
With a plan that has been described as Australians across the nation as "inspiring" and "ensuring our country's future" he is expected to be rolled by party colleagues within the week.
OUR LATEST LIVE SHOW - BOOK NOW:
Share this story: