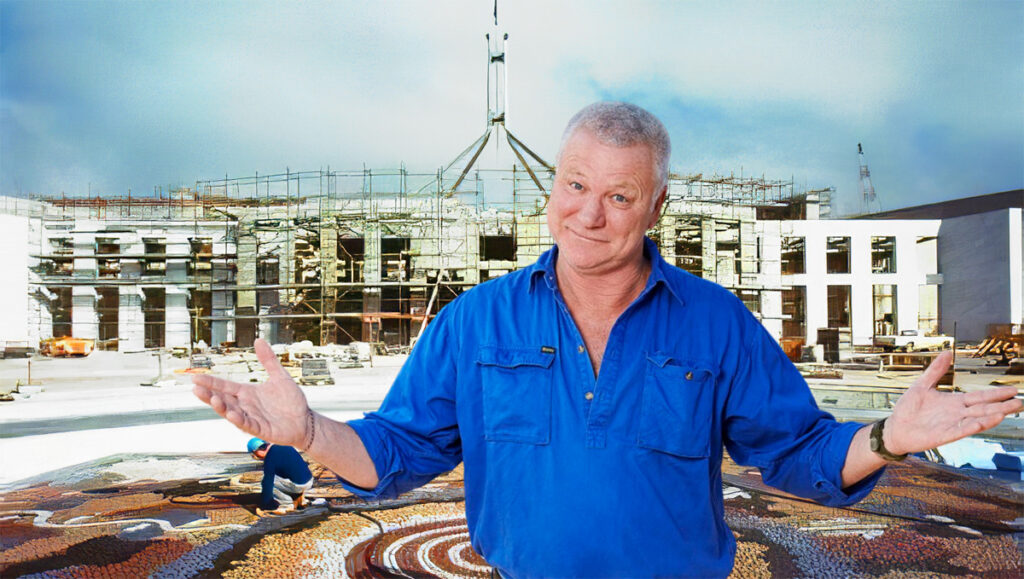 The latest instalment of Parliament House has ended on a bombshell finish this afternoon after reigning champion team Scott and Josh failed to bring the latest round of national renovations in under budget – with a shortfall of almost $40 billion compared to what contestants were supposed to spend.
Going over the latest round of renovations Scotty Cam was unimpressed. "Boys boys boys," he was heard chuckling as he shook his head, "you really screwed the pooch didn't you. What happened to the bill to ban gay kids from being kicked out of school? Now it's a bill to enshrine religious discrimination in law? And what's this layout you've chosen, the Arts room flows straight through to the road, there's no wall between them? And look over here at the fire plan! It's completely back to front, and the heating units stuck to warm all year round? God, I haven't seen a mess this big since three seasons ago when Abbott and Hockey from the North Shore didn't do a single thing with their budget and tried to pass it off as minimalism."
Scott and Josh were indignant, insisting that it was not their fault that their project didn't come in on budget. "It's not our fault!" shouted Scott, "Albo and Richo, it's their fault! They took our plumber! And yea look, we might have gone a bit overboard with installing a chaplain in every room, and yep I'll admit giving everyone free franking credits with our surplus from the last episode may have been a bit shortsighted, but we're pretty sure we can still scrape through if we just cut out our plans to build a second airport out the back."
"Also in hindsight we probably didn't need to pay Scotty Cam $300,000 to do nothing. We'll admit that was a mistake."
However, the protests were not enough to convince Scotty Cam, who said that sadly it was the end of the line for team ScoJo. "Sorry boys, looks like it's game over for you. But on the upside you've both won an expenses paid trip to Hawaii. I hear it's really nice this time of year, great place to get away for a while and forget all about what's going on back home."
---
If you enjoyed this article, consider becoming a contributor to the Chaser Beer Fund. For just $7 a month you can help us employ 20 more interns.
---